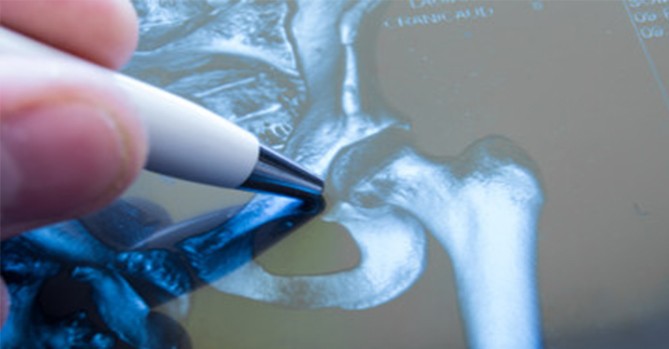 Accelerate Total Hip Replacement Rehab with Pre-Surgery Exercise Therapy
Clients frequently feel frustrated by being on a wait list for total hip replacement surgery. Doctors often recommend a hip replacement rehab program for after surgery, but have you considered participating in one before?
We understand that joint replacement surgeries are major surgical procedures that require careful consideration. Clients say that surgery can be both physically and psychologically stressful because they are unsure of how to prepare and are not sure if surgery will resolve the chronic pain they're enduring.
Since waiting times for hip replacements can be six months or longer, many patients are also left wondering what they can do to get ready while maintaining their current level of function as well as managing their pain.
Unfortunately, there is often significant muscle, mobility and strength lost during the first few weeks of healing post-surgery because there's a lack of movement. The good news is that these losses can be minimized by completing a six to twelve week pre-surgery hip replacement rehab therapy program.
An exercise program before your surgery is designed by an exercise rehab specialist such as a Kinesiologist to increase strength and to improve your capacity to move with less pain. You will also feel more confident and prepared for surgery. Recovery from surgery will be faster or you may even be able to delay surgery!
An article in the December 2018 issue of Canadian Family Physician by Aaron Jattan and Brent Kvern discussed the case of a woman who was on the wait-list for total knee arthroplasty. Her pain was self described as "9 out 10 pain" before she started an exercise program. After a year of regular participation her pain decreased to "1 out of 10" and she was removed from the wait-list.
How Many Hip Replacement Surgeries Are Done Per Year in BC?
The Canadian Joint Replacement Registry (CJRR) Annual Report for 2016-2017 indicates there has been an increase of hip replacements by 17.8% over the previous 5 years. During this time there were 52,000 first time hip replacement and 9,400 revision surgeries done in Canada and 7,572 primary surgeries in British Columbia.
Canadian Primary Hip Replacements
Canadian Hip Replacements Revisions
It is projected that by 2031, roughly one in four Canadians will be over the age of 65. As a large portion of the Canadian population reaches this age bracket, joint replacement surgeries are going to be more common in older adults such as those with debilitating hip pain and degenerative osteoarthritis.
There are several reasons for people to have hip replacements including: severe osteoarthritis, previous hip injuries, hip fractures and vascular necrosis which quickly and drastically decreases the blood flow to the joint.
An increasing number of active individuals are also considering hip replacements because of the advancements in surgical techniques and prostheses. These medical innovations combined with their pre-surgery fitness enable these patients to return to activities like golf, hiking, tennis, cycling, swimming and sometimes running.
I needed to prepare for hip surgery and get in better shape, however I was unable to exercise due to having so much pain. I needed a trainer who would understand my limitations but help with strengthening my legs and arms.
I had already tried to work out on my own and nothing seemed to work. My trainer Alfred plans the sessions to meet my specific needs. Alfred challenges me within my capabilities but makes sure there is no risk of damage to my hip.
Brenda, Total Hip Replacement
What Happens During Hip Replacement Surgery?
Replacing a damaged joint significantly reduces pain and helps a person feel and move better. Hip and knee replacement surgeries are the most common types of inpatient surgeries in Canada. Other joints replaced include wrists, elbows, and shoulders.
Total joint replacement is a surgical procedure where parts of a damaged joint are replaced with a metal, plastic, or ceramic device known as a prosthesis. The prosthesis is designed to reproduce the movement of a healthy joint. Hip arthroplasty is a complex orthopaedic surgery that impacts the surrounding nerves, ligaments, muscles and tendons.
What Types of Total Hip Replacement Surgeries Are There?
Four types of total hip replacement surgeries are available. The difference between the three conventional approaches is where the surgeon places the incision. The more common surgery methods are: the direct anterior approach, the direct lateral approach, and the direct posterior approach. A fourth relatively new method is the minimally invasive hip surgery.
Direct Anterior Approach
Direct Lateral Approach
Direct Posterior Approach
Minimally Invasive Hip Replacement Approach
What are the Risks of Hip Replacement Surgery?
All surgeries carry inherent risks. According to the Arthritis society of Canada risks regarding hip replacements fall into two categories: risks of the surgery and recovery period, and long-term risks that may occur months to years after the surgery. Surgical and recovery risks include: blood clots, infection, fracture, nerve injury, hip dislocation after surgery, and difference in leg length.
Problems that can occur in the long-term include loosening of the hip implant in the bone, infection in the joint, and a reaction to the metal in the new joint. It's important to carefully evaluate if you need joint replacement surgery now or if it can be postponed.
The prostheses do last longer these days, but you may need a revision within 10-15 years. Surgery should be considered once all other possible solutions, such as a pre-surgery exercise program have been explored for at least 6 months.
What is a Pre-Surgery Hip Replacement Rehab Program?
It is common for individuals with osteoarthritis needing hip replacements to experience a decrease in their ability to complete functional tasks such as walking up or down stairs, getting up from a chair and putting on their shoes.
An exercise program before before total hip replacement rehab is meant to prepare you for surgery. It combines a series of personalized exercises, assisted stretch therapy and home flexibility activities to help strengthen the muscles of the hip and upper-body, increase mobility, and improve aerobic capacity. Participation is important so that you are able to continue to do the above activities and you are able to return to pre-surgery function more quickly because your post-surgery rehab is easier.
What are the Benefits of Pre-Surgery Hip Replacement Rehab?
Lowers Your Risk for Needing Inpatient Physiotherapy
Completing six weeks of strength training before your surgery significantly reduces your need for inpatient rehab. Between 2001 and 2003 , Daniel S. Rooks compared a group of 54 patients who needed hip or knee replacement surgery.
They were led through land-based and water-based strength training, aerobic, and flexibility exercises three times per week for six weeks before their surgeries and compared to a group who just received educational materials. The group which received individualized exercise programs lowered their odds of needing inpatient rehabilitation by a whopping 73 percent!
Hip replacement prehab programs reduce the need for inpatient rehab by 73% #arthritis #hipreplacementsurgery
Snow et al. (2014) looked at the link between preoperative physical therapy and the use of post care therapy. Interestingly, they found that the use of preoperative physical therapy reduced the use of post-acute care services by 29% .
Prehab by patients with hip or knee arthritis waiting for joint replacement surgery decreased their pain and increased function. This was also true in patients who were most disabled by their condition, Desmeules et al. (2014).
Furthermore, a similar study conducted by Swank et al. (2011), which looked at the effect of prehab on individuals waiting for total knee joint replacement surgery concluded that prehabilitation increased strength and decreased hospital stay time.
Strengthens Upper Body to Recover More Easily
We've had clients come to us who want to stay motivated while maintaining their ability to walk, climb stairs and even dress while they wait for their surgery date.
Our Kinesiologist-guided prehab program focuses on increasing upper body strength because you still need it for getting in and out of bed, ambulating with crutches, walkers and canes and sitting and rising from chairs and the toilet.
Minimizes Strength and Muscle Loss Post-Surgery
Regular exercise before surgery can help one's recovery. It can also strengthen, and minimize muscle breakdown of the impacted and surrounding muscles, during the immobilization period post surgery.
In 2009, Topp et al. looked at improving function before knee replacement surgery. Their research suggests that prehab leads to improvements of functional tasks, and that the individuals that participated in the prehab intervention were able to maintain their pre-surgery exercise gains, and showed significant improvement in their functional abilities 3 months after the surgery.
These findings strongly suggest that hip replacement exercise therapy before surgery leads to decreased in-hospital care post surgery and a faster return to pre-surgery activities.
Why It's Important to Exercise Before Having a Hip Replacement
There are many benefits to participating in an exercise program lead by a Kinesiologist.
Are there Movements You Should Avoid After Hip Replacement Surgery?
There are a few precautions and guidelines that need to be followed for moving around during the first 6-8 weeks to minimize your risk of dislocation. The risk is lower for an anterior (front of thigh) than a lateral (side of body, hip) approach. Health Link BC even says it may be safe to have sex after first 4-6 weeks post hip replacement. Consult your surgeon and physiotherapist for more details.
Recovering from Hip Surgery
Physical rehabilitation is a very important part of recovering from hip surgery. A home-visit or outpatient physiotherapist will provide you with specific exercises during the first 2-8 weeks post surgery while the wound heals.
These exercises restore walking, increase your range of motion and restore your strength. After this time it's appropriate to consult a Kinesiologist to begin a more advanced program.
Education and Exercise Improve Quality of Life
Long wait times and uncertain outcomes frustrate people. As a result, patients are considering different treatment options to deal with their pain and decreased quality of life as they wait for hip surgery.
It's clear that exercise combined with patient education before surgery have positive effects on pain, functional capacity, strength, recovery time, and health related quality of life. Finally, a post-surgery rehab and fitness program with a Kinesiologist can be started sooner if you've completed a prehab program.
Authors: this article was researched, written and prepared by Madani Diarra, a 4th year Kinesiology student as part of a practicum. Contributions, design and edits by Alfred Ball, Practicing Kinesiologist and Certified Fascial Stretch Therapist.
References
​​Before, During and After Hip and Knee Replacement Surgery. A PATIENT'S GUIDE. (2019). Retrieved from http://oasis.vch.ca/media/OASIS-before-after-hip-knee-surg.pdf
Desmeules, F., Hall, J., & Woodhouse, L. J. (2013). Prehabilitation Improves Physical Function of Individuals with Severe Disability from Hip or Knee Osteoarthritis. Physiotherapy Canada, 65(2), 116-124.
Exercise Guide for Hip Replacement Surgery. (2019). Retrieved from https://vch.eduhealth.ca/PDFs/FB/FB.863.Ex37.pdf
Hip and Knee Replacements in Canada, 2016–2017. (2018). Retrieved from https://secure.cihi.ca/free_products/cjrr-annual-report-2018-en.pdf
Jattan, Aaron and Kvern, Brent. Exercise Specialists Should be Members of Our Health Care Team. Canadian Family Physician December 2018, 64 (12) 879-880;
Minimally Invasive Total Hip Replacement - OrthoInfo - AAOS. (n.d.). Retrieved from https://orthoinfo.aaos.org/en/treatment/minimally-invasive-total-hip-replacement/
Petis, S., Howard, J., Lanting, B., & Vasarhelyi, E. (2015). Surgical approach in primary total hip arthroplasty: Anatomy, technique and clinical outcomes. Canadian Journal of Surgery, 58(2), 128-139.
Rizzo, T. (2019). Prehab for Surgery. [online] Arthritis.org. Available at: https://www.arthritis.org/living-with-arthritis/treatments/joint-surgery/preparing/prehab-surgery.php
Swank, A. M., Kachelman, J. B., Bibeau, W., Quesada, P. M., Nyland, J., Malkani, A., & Topp, R. V. (2011). Prehabilitation Before Total Knee Arthroplasty Increases Strength and Function in Older Adults With Severe Osteoarthritis. Journal of Strength and Conditioning Research, 25(2),
Topp, R., Swank, A., Quesada, P., Nyland, J., & Malkani, A. (2009). The Effect of Prehabilitation Exercise on Strength and Functioning After Total Knee Arthroplasty. PM&R, 1(8), 729-735. doi: 10.1016/j.pmrj.2009.06.003