What is the Difference Between Kinesiology and Physiotherapy?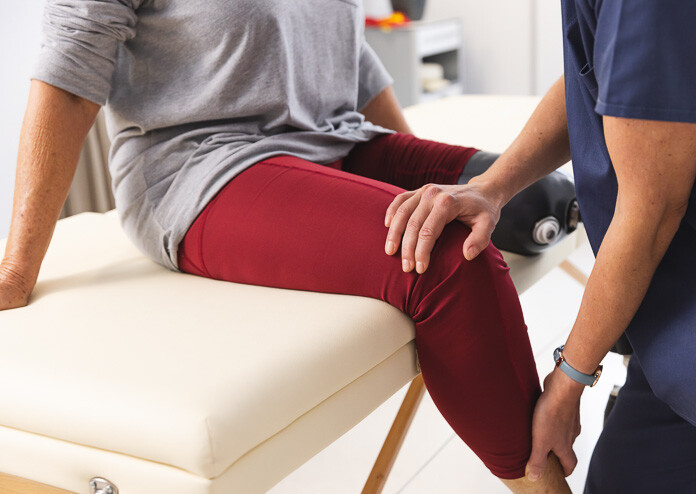 During their first kinesiology session, clients often wonder what the difference is between kinesiology and physiotherapy. They would also like to further understand when to choose between a kinesiologist and a physiotherapist for care.
Physiotherapy is often the first health professional people to turn to when they are injured or need to recover from surgery. It is important to know the difference between physiotherapy and kinesiology before choosing.
It is encouraging to see the growth and recognition kinesiology has received over the last twenty years. Still, many don't understand its value and how kinesiologists fit into the rehab puzzle. This article describes the differences and similarities between both professions and answers a few other questions.
What Does a Kinesiologist Do?
Kinesiology is the study of human movement and performance. Kinesiologists assess human performance and function to prevent, rehabilitate and manage chronic diseases and injuries.
Our focus is empowering people to lead active lives. We enhance their capabilities in several areas. These include sports, activities of daily living and work. Clients' goals are varied. They include getting back to, playing golf pain-free, returning to a physically demanding job, being able to play with their kids with more ease or going for longer and more vigorous hikes.
Kinesiologists work in the fields of rehabilitation, health promotion, sports performance, occupational health and safety and disability management. Our jobs can be in clinics, in the community or in large organizations.
What is a Physiotherapist?
Physiotherapists are licensed health professionals. Like kinesiologists, they provide patient-centered, evidence-based care.
"Physiotherapists assess, treat, and manage pain, injuries, movement dysfunction, and chronic conditions. The goal of physiotherapy is to empower, promote independence and improve the quality of life for British Columbians across all ages and abilities. " Physiotherapy Association of B.C.
Physiotherapists work with clients to help them recover from acute injuries as well as manage chronic conditions. They work independently as well as within clinics, do home visits and care for people in hospitals.
Similarities Between Kinesiologists and Physiotherapists
Both are allied health professionals. Physiotherapists and kinesiologists are passionate about enhancing their client's quality of life. We do this through different treatment modalities, including exercise and patient education.
Physiotherapy and kinesiology are complementary professions. They collaborate with other health professionals, their patients and physicians when creating treatment plans.
What is the Education of a Kinesiologist versus a Physiotherapist?
A kinesiologist has a minimum of a four-year undergraduate degree in Human Kinetics or Kinesiology. Many physiotherapists start their careers as Kinesiologists. In Canada, a physio then attends a two-year Master's program which used to be a second undergrad degree. Physiotherapists go on to complete post-graduate certifications and specialties.
Kinesiologists in clinical practice often complete certifications or diplomas, some even have Master's degrees. The extra education depends on their area of specialty.
Kinesiologists and Physiotherapists Both Prescribe Exercise
Near the end of a physio session, a patient will often be prescribed a few home exercises. The problem is that clients often don't remember how to do them effectively. This is because the amount of time dedicated to teaching them is often brief.
On the other hand, kinesiologists thrive on providing exercise therapy programs. Each kinesiology session is dedicated to exercise prescription and one-on-one coaching.
A kinesiologist reviews the exercises prescribed by the physio and then progresses them. By taking part in kinesiology sessions, clients learn the exercises to complete them at home or at a local gym.
Kinesiologist continues to develop, coach and advance the program from rehabilitation to fitness, to return to work or to return to sport.
Differences Between Kinesiology and Physiotherapy
Are Kinesiologists Regulated Health Professionals?
In British Columbia, physiotherapists are regulated (licensed) health professionals under the Health Care Act. This means that there is a college to take care of the public and they've taken comprehensive exams. The practical and theory exams assess each practitioner's knowledge and competence. The Physiotherapy Association of B.C. is a professional body that looks out for physios and promotes physiotherapy to the public.
While Kinesiologists in B.C. have been working towards this goal for many years it has eluded us. We need the support of the government and the public to make this happen.
The provincial government in British Columbia commissioned a report in 2019 to review the number of health professional colleges in the province.
Kinesiologists in B.C. are members of the British Columbia Association of Kinesiologists. As of 2023, we don't take comprehensive exams. However, our professional association ensures that we meet certain educational requirements and maintain standards of practice. They also keep the discussion for regulation ongoing with the government and market to the public.
In the past, we called ourselves "Registered Kinesiologists." This was to show the public were members of the BCAK. Kinesiologists working directly with clients are meant to use the term "Practicing Kinesiologist" instead because "registered" is a protected term.
Are Kinesiology Sessions Covered by Health Benefits?
Not being a regulated profession, makes it difficult for kinesiology to be included in group benefits plans.
That said, there are a growing number of health and disability plans that do pay for kinesiology, like Sun Life, Desjardin and Blue Cross. Check with your provider.
Physio-Delegated Kinesiology Sessions
When kinesiology is not covered, an option to think about is to look for physiotherapy-delegated kinesiology. During this type of service, a physiotherapist carries out the initial assessment.
They then discuss and create a treatment plan with a kinesiologist. The physiotherapist delegates the exercise program to a kinesiologist to conduct. Patients rebook with the physio every 6-8 weeks for a reassessment.
Kinesiology is Covered by the Insurance Corporation of British Columbia
There is good news! People who become injured in car accidents in B.C. are eligible for kinesiology coverage without a Doctor's referral within the first 12 weeks after the accident.
Kinesiologists have been recognized by ICBC for many years. This program used to be called active rehabilitatiion. Payment support is also available for people involved in older accidents, but it takes more effort.
Learn more about ICBC Kinesiology benefits under the Enhanced Care Program.
How to Get Kinesiology to Added to Group Health Benefits
Kinesiologists need people like you to keep asking for kinesiology to be added to their health benefits plans.
There are a few providers who do cover kinesiology, such as Sunlife. Their benefits subscribers use a directory called Lumino, which lists eligible practitioners.
Can Kinesiologists Diagnosis?
Kinesiologists are not doctors, though some physicians might have started their education with a kinesiology degree. Physicians refer their patients to kinesiologists to become more physically active. Kinesiologists are skilled in filling these exercise prescriptions.
Even though Kinesiologists understand the human body well, they can not make a diagnosis. Diagnostics are left to the physiotherapists and doctors.
Even though we gather Information from the intake session, it is not a diagnosis. We combine any diagnoses with our assessments to create an exercise rehab program. Various tests include range of motion testing, health questionnaires, and movement screens. Depending on a client's goals we might also complete cardiovascular and strength testing.
When to see a Physiotherapist Instead of a Kinesiologist
Figuring out which professional to see is challenging. Physiotherapists see patients for both chronic conditions as well as acute injuries. Whereas, Kinesiologists see clients for the sub-acute or remodelling phases of healing and long-term conditions, such as chronic pain.
The acute phase is during the first few weeks after an injury or once a patient gets discharged after surgery.
Common reasons to see a physiotherapist are for a more detailed diagnosis, to manage injury flare-ups, for rehab during the 8 weeks post-surgery, to reduce swelling from a recent injury or to manage chronic pain.
Contact us if you are still unsure. We can help you decided.
How do the Treatment Methods Differ Between Kinesiologists and Physiotherapists?
Physiotherapists use both active and passive treatments.
Passive treatments are valuable ones that are done to you, early on in rehab. Physios will use modalities such as acupuncture, neuromuscular stimulation, ultra-sound, intramuscular stimulation, and manual therapy.
A popular form of active treatment (movement) provided by some physiotherapists is Clinical Pilates. Other tools used are exercise bands, stability balls, free weights and the TRX. Physios also prescribe assistive, adaptive and protective equipment.
What Happens During Kinesiology Sessions?
Kinesiologists are experts in providing movement-based therapy. Our goal is to deliver active rehab that makes a positive impact on our clients quality of life. We understand how people interact within their environment.
Kinesiologists build on and enhance the exercise program already given to the client by the physio. We use the same tools for exercise rehabilitation.
Appointments with a kinesiologist are oriented toward improving function through guided movement. We lead clients through mobility and strength exercises. During the visit, a Kinesiologist monitors load, volume, fatigue and exercise form. Kinesiology sessions are usually 45 - 60 min, unlike physio visits which are often 15 - 30 min, but can be up to 60 minutes long.
Exercises and programs change depending on how clients feel after and during each visit. A client's progress depends on whether or not they complete their home exercises and how their bodies respond. Like Physios, we also provide home exercise programs.
Can Kinesiologists Practice Manual Therapy?
Yes and No. To clear up the confusion we need to discuss different types of manual therapy.
A Kinesiologist's scope of practice extends to osteopathic techniques like Fascial Stretch Therapy. We are forbidden from doing quick adjustments or anything that pierces the skin.
Examples are intermuscular stimulation, acupuncture and high-velocity joint manipulations. Physiotherapists have advanced training in these modalities.
What other Treatment Types Can Kinesiologists Use?
With additional training, Kinesiologists can use passive treatments. These include laser-therapy, ultra-sound, and kinesiotape.
4 Reasons to See a Kinesiologist
1. To Strengthen an Injured Area
A frequent time when people book in with a kinesiologist is when the swelling is gone and the joint range of motion is starting to return.
Clients are ready to begin strengthening the injured area and improving their general conditioning.
2. To Stay Active While Rehabilitating an Injury
A second reason is that someone wants to stay active while resolving an injury. We help them develop an exercise program that works with their current abilities while increasing fitntheir ess and focusing on rehabilitation.
Working with a Kinesiologist lowers the risk of re-injury and limits aggravating the injured area. We provide them with movement and pain education to prevent further injury. Clients may be seeing a Physio during this time.
3. To Prevent and Manage Chronic Diseases
Third, physical activity is a well-known treatment method to prevent and manage chronic diseases.
At Lifemoves we provide personal training programs for people with chronic conditions like osteoarthritis, Diabetes and Parkinson's, chronic pain and fibromyalgia., Clients want us to help them learn how to be more active while managing their pain and diseases.
4. For Pre and Post Surgery Rehabilitation
The fourth reason to book an appointment with a kinesiologist is to prepare for or recover from surgery.
For example, taking part in pre-surgery rehab for a joint replacement or other conditions speeds up recovery and provides a quicker return to pre-surgery. We also have experience helping people recover from other surgeries including labrum repairs, ACL repairs and disectomies.
Hopefully, after reading this article you understand more about the differences between kinesiologists and physiotherapists. You also have the knowledge of when to see one instead of the other.
In conclusion, the key differences are our education and our treatment methods. While there is a cross-over with exercise, it is where kinesiologists thrive. A Kinesiologists' area of expertise is to provide movement-based exercise rehabilitation.
We also have things in common. The big one is that both allied health professions are immensely passionate about empowering their clients to lead active lives with less pain.
Book a Session with a Kinesiologist if You are:
Sure, I'd love it if you went to see a kinesiologist! They, including me, would also refer you to a physiotherapist if they thought that it would be better for your care. Seeing a kinesiologist can be beneficial in many ways which are worth thinking about.
A kinesiologist will provide you with the education and confidence to go from rehabilitation to functioning and moving at your best.