What is the Difference between a Personal Trainer and a Kinesiologist?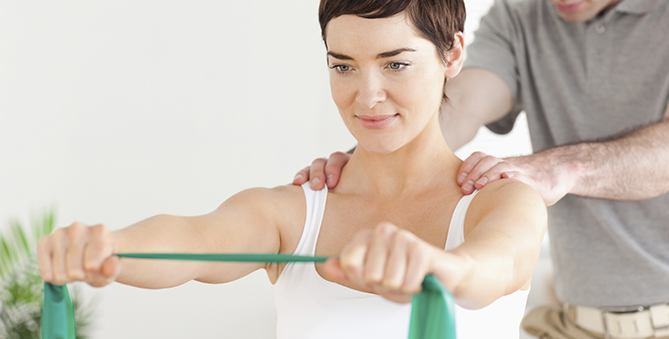 The differences between a personal trainer and a kinesiologist are more than what we choose to call ourselves in our job titles. I have colleagues who use the terms Kinesiologist and Personal Trainer interchangeably, however during my 20 years of practice I've always referred to myself as a Kinesiologist even when working for a big box gym as a Personal Trainer who became known as the Rehabilitation Specialist Trainer because I focused on helping people with injuries and chronic medical conditions regain and maintain active lives.
The main distinctions between a Kinesiologist and Personal Trainer are our education and the type of clients each are able to work with. We see clients who start working with a Personal Trainer after injury, but client ends up in more pain because the Personal Trainer doesn't understand the client's condition or tolerance for load. They then figure out that they need to see a Practicing Kinesiologist to help them recover from their injury or manage their chronic disease(s). These clients now will only train with Kinesiologists.
When you hear the term "Personal Trainer," you have an immediate image, correct? What about "Kinesiologist"? The image is probably not as clear. Just like in my early career I was a Kinesiologist and Personal Trainer.
As an outside observer you might not see a difference, however there are several.
What is a Kinesiologist in British Columbia?
The British Columbia Association of Kinesiologists (our professional association) defines Kinesiology as:
"The practice of Kinesiology is the

assessment of movement

,

performance and function

and the

rehabilitation

,

prevention and management of disorders to maintain

,

rehabilitate or enhance

movement

,

performance and function

, in the areas of sport, recreation, work, exercise, and activities of daily living." BCAK
Kinesiologists in B.C. are working diligently towards being a regulated health profession which have colleges to protect the public and where the associations look after the practitioners. In Ontario, we've gained that designation and a college, and hopefully, the recognition of a regulated health profession will eventually spread throughout Canada.
A growing number of health care benefits providers, including Pacific Blue Cross include kinesiology under paramedical like Massage Therapy and Physiotherapy. Ask your employer for more details and for kinesiology to be included your health benefits plan.
We are recognized by ICBC as part of the health care team once some has been involved in a car accident. For people who are injured after April 1, 2019 they now have immediate funding for 12 active rehab sessions to help them fully recover.
Personal Trainer and Kinesiologist's Differences in Education
Many beginner levels of Personal Training certifications including the British Columbia Recreation Parks Association's (BCRPA) scope of practice which is limited to training those "who are apparently healthy", that is, they have no known medical conditions or injuries. The biggest difference in BC between a Kinesiologist and a BCRPA Registered Personal Trainer is our base level of education. Some Personal Trainers do have undergraduate degrees or even Masters degrees and other health related certifications.
A Practicing Kinesiologist has a minimum of a 4 year degree in Exercise Science, Kinesiology or Human Kinetics and often multiple other related health, fitness and certifications where as the BCRPA courses include a very basic introduction to anatomy and kinesiology throughout a couple of weekends and limited practical evaluations. To gain membership with the BC Association of Kinesiologists we are required to have core courses that include anatomy and biomechanics and electives from related upper-level courses.
Our Difference in Scope of Practice
A Kinesiologist's extended education and experience benefits clients with medical conditions or injuries because they will be able to provide safe, effective and current exercise/physical activity guidelines that take into account the client's current fitness level, injuries, and chronic diseases. Personal Trainers' scope of practice extends to apparently healthy individuals with no apparent injuries or diseases.
When to Choose a Kinesiologist
When to Choose a Personal Trainer