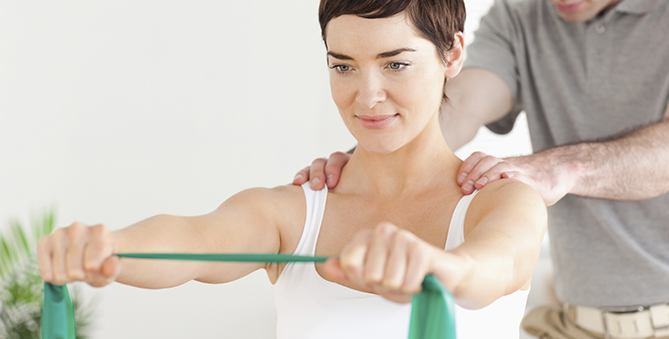 What Are the Differences Between Personal Trainers and Kinesiologists?
When I first became a Kinesiologist man people began wondering what the difference between a Personal and Kinesiologist are. They go beyond a job title to include our education and scope of practice. While I do know colleagues who use the terms Kinesiologist and Personal Trainer, I have been proudly calling myself a Kinesiologist for nearly 25 years.
Even at the beginning of my career while working a Personal Trainer I distinguished myself as the Rehabilitation Specialist and advocated for Kinesiologists. I continue to focus on helping people with injuries and chronic medical conditions regain and maintain active lives.
Kinesiologists often see clients who start working with a Personal Trainer after an injury, but the client the ends up in more pain because the Personal Trainer doesn't understand the client's condition or exercise capacity.
These people then figure out that they need to see a Practicing Kinesiologist to help them recover from their injury or manage their chronic disease(s). These clients now will only train with Kinesiologists.
What is a Kinesiologist?
It is first import to understand what a Kinesiologist is. Early in my career not many people knew what a Kinesiologist is, who we help, or what we do. Here is how Merriam-Webster dictionary defines Kinesiology:
Kinesiologists study the acquisition of motor skills, the mechanical aspects of movement, and the body's responses to physical activity.

Merriam-Webster Dictionary
Practicing Kinesiologist in British Columbia are part of the British Columbia Association of Kinesiologists. Their definition of Kinesiology is:
"The practice of Kinesiology is the assessment of movement, performance and function and the rehabilitation, prevention and management of disorders to maintain, rehabilitate or enhance movement, performance and function, in the areas of sport, recreation, work, exercise, and activities of daily living.

BCAK
Kinesiologists are part of your health care team. We work in many different environments such as ergonomics, active rehabilitation, sports performance, occupational safety, and disability management. Watch the video to learn more.
What is the Difference in Education Between a Kinesiologist and Personal Trainer?
Practicing Kinesiologist ha a minimum of a four year degree in Exercise Science, Kinesiology or Human Kinetics and often retain multiple other related health, fitness and certifications.
To gain membership with the BC Association of Kinesiologists we are required to have core courses that include anatomy and biomechanics and electives from related upper-level courses.
Personal Training courses cover these courses in less detailed. BCRPA certification includes a very basic introduction to anatomy and kinesiology throughout a couple of weekends and limited practical evaluations.
Kinesiologists are required to maintain their current knowledge by attending a minimum of twenty hours of continuing education per year.
Some Personal Trainers do have undergraduate degrees or even Masters degrees and other health related certifications, however all Kinesiologists have an undergraduate degree.
What is the Distinction Between a Personal Trainer and Kinesiologist's Scope of Practice?
A scope of practice defines what a professional allowed to do and able to do. Our areas of practice are also defined by any additional education and our experience. For example, in 2005 took training for on the Pilates Reformer and Mat and recently expanded my Clinical Pilates training to the Stability Chair. Also, in 2007 I became a Certified Frederick Stretch Therapist (formerly Fascial Stretch Therapy).
Personal Training certifications including the British Columbia Recreation Parks Association's (BCRPA) scope of practice which is limited to training those "who are apparently healthy" that is, they have no known medical conditions or injuries.
Why Choose a Kinesiologist Instead of a Personal Trainer?
A Kinesiologists expanded education and experience enable to them to better assist people with medical conditions stay active, or help people with injuries or those recovering from surgery. Our expertise enables us to understand our clients condition(s) and their tolerance to exercise and their day-to-day abilities.
Kinesiologists design exercise rehabilitation programs to empower people so that are able ot successfully return to work, return to sport and enjoy the activities of daily living with less pain.
It is always important to check the background of those who are taking care of your health. You need to be able to trust and get along with each provider. You can follow these steps to check out the credentials of your fitness professional or allied health care professional.
When to See a Kinesiologist
Are Kinesiology Services Covered by Health Benefits?
A growing number of health care benefits providers, including Pacific Blue Cross include kinesiology under paramedical like Massage Therapy and Physiotherapy. We ask that you your employer for more details and for kinesiology to be included your health benefits plan.
We are recognized by ICBC as part of the health care team once some has been involved in a car accident.
Kinesiologists in B.C. are working diligently towards being a regulated health profession which have colleges to protect the public, while the associations look after the practitioners. In Ontario, Kinesiologist are regulated health professionals hopefully, the recognition as regulated health profession will eventually spread throughout Canada.
When to Choose a Personal Trainer
Original article written in 2010, updated May 17. 2023