How to Walk Safely on Snow to Avoid Serious Injuries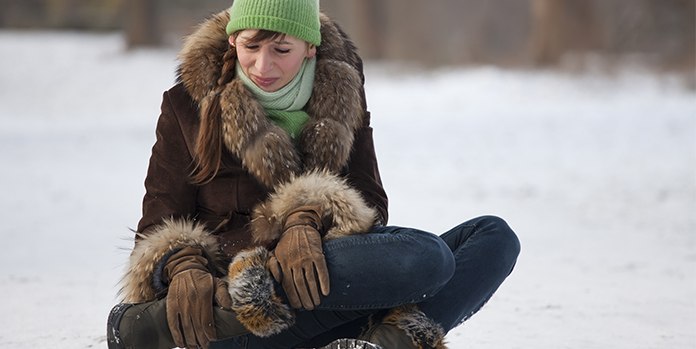 Slips and falls on the ice are serious concerns for the elderly as well as people with chronic medical conditions. Learning to walk safely on snow can alleviate the fear that falling on the ice will make their condition worse or result in a debilitating injury like a hip fracture. Breaking a hip can be life threatening for a senior. This fear freezes many and leaves them unwilling to leave their home. Being stranded is a lonely feeling.
​A quick search for Canadian injury statistics for people falling on ice and snow brought up an outstanding figure, just for Ontario in 2005/2006. Can you imagine what it is like for British Columbia? This doesn't count the falls like my tumble in December that requires physiotherapy, but not hospitalization for recovery.
Ontario Statistics for Injuries from Falls on Ice and Snow
21,213
Emergency Room Visits
Source: Ontario Injury Resources
As a child, I clearly remember my mother advising me when I was four years old, "Don't put your hands in your pockets" as I was going down some icy steps. Being a stubborn four year old, I defied her. My feet slipped from under me and my head hit the step. The cut was deep enough that it required stitches. Luckily the hospital was just a few blocks away. Her voice echoes in my head everytime I go down concrete steps that are wet or icy and I almost put my hands in my pockets.
The snowfall during the 2016/2017 winter surprised many people in Metro Vancouver. The conditions became treacherous over the holidays when people didn't clear their sidewalks and the snow melted, becoming icy and very slippery. There are easy to implement steps to prevent falling while walking so that you feel safe.
Some areas received more snow than others. It caught many people by surprise who weren't prepared. Snow shovels and salt sold out at stores across the city in December. Cars and buses had difficulty climbing and descending hills.
Don't Put Your Hands in Your Pockets

Mother
Watch the video to learn some of tips I shared quickly when a client cancelled because she was afraid of leaving her house. Read further for additional ideas.
How to stay independent and walk safely and confidently on snow and ice. #fallprevention #winterinjuries #activeaging
9 Tips to Walk Safely on Ice and Snow
How to Stop Yourself from Falling While Walking in Winter
Don't Travel at Night:

It is dark outside and you can't easily see what is icy or clear. Streets are even more treacherous.

Step on Clear Patches:

Avoid spots that have a glimmer of light. Try to identify places where the road or sidewalk is completely clear.

Keep One Hand Free:

Try to keep one hand free so that you can catch yourself if needed. Use a cart or backpack when carrying items.

Walk Like a Penguin (Take Small Steps)

: Have you ever seen a penguin fall? They waddle and take small steps. Maintain good contact with the ground. Ensure that each foot is secure before taking the next step.

Step on Crunchy Patches

:

As the path gets trodden on it starts to become smoother. Spots that are more granular provide more friction for more walking safety.

Don't

Rush. Slow Down:

Give yourself more time to go places. Take slower, more deliberate steps.

Hold on Someone or Something:

If you are walking with a friend or partner, consider holding on to them. Hold on to railings when available, especially on slopes.

Wear Proper Footwear:

Make sure that your shoes or boots have excellent tread that is designed for the conditions. You can get winter traction devices like Canadian Yak Trax or those from Mountain Equipment Co-Op. They attach to shoes quickly for additional traction.

Use Nordic Walking Poles:

Walking poles help keep you on your feet because the make your base of support bigger while providing you with more points of contact with the ground. They also keep your upper-body active similar to cross-country skiing to enhance your well-being even more.