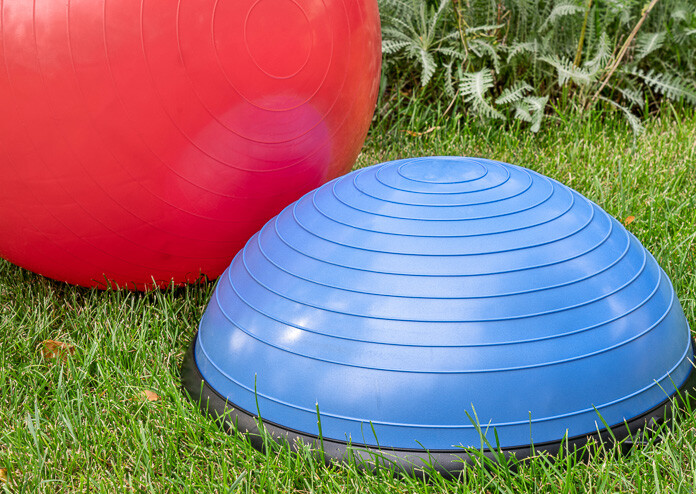 How to Choose Between a BOSU and Stability Ball
Last Updated: June 20, 2023
Clients often ask "How do I choose between a BOSU or stability ball for my home gym?" BOSUs and stability balls, are tools with advantages and disadvantages. It is important to think about these when deciding between buying one or the other.
There are several questions to ask yourself first. The first one is "What will it be used for?" Are your goals oriented towards adding more cardio or do you want something you can sit on at your desk and do exercises?
Second, consider your health and fitness history. For example, are you able to get up and down from the floor easily?
Also, don't forget what space is available to exercise and to store it.
Advantages and Disadvantages of a BOSU (Both Sides Utilized)
Although it is commonly known as the BOSU ball, it is not a ball. It is an inflatable half-dome made of similar materials to a physioball.
The BOSU Trainer was first developed in 1999 by David Weck. It became all the rage in group fitness classes and with Personal Trainers during the 2000s.
Advantages of a BOSU
Disadvantages of a BOSU Trainer
Advantages and Disadvantages of a Stability Ball
The stability ball is known as a physio or balance ball.
Advantages of a Stability Ball
Disadvantages of a Stability Ball
We lean more towards the BOSU for a fun, safe, versatile home workout. Since there also are things you can do with a stability ball, we would also add the BOSU Stability Ball.
If you do decide on a physioball, invest in one with anti-burst.
Please contact us if you need help deciding or if you'd like to learn a few exercises.
Affiliate disclosure. All links to BOSU's official website are for informational purposes. We do not earn any fees from these links. *Lifemoves receives a small commission from purchases made through Amazon links on our website. These help support our efforts to provide you with high-quality educational content.